About Us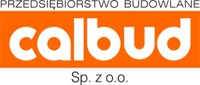 The Building Enterprise "CALBUD" Sp. z o.o. [limited liability company] belongs to the group of the major construction companies in West Pomeranian area. This company has been established on 29 July 1991. Since 1999 it commenced providing services on foreign construction sites located in Germany. For that purpose a branch office has been established in Oranienburg nearby Berlin, functioning on the German market under the name of Bauunternehmen CALBUD GmbH poln. Rechts, Zweigniederlassung Oranienburg. Over the last years the enterprise has undertaken the execution of foreign buildings on the territories of the other European states – Sweden, Iceland and Holland.
The Building Enterprise "CALBUD" is the engineering-construction company. Its advantage is the broad scope of the services provided on the principles of the general contracting, both in the general as well as industrial building. The Company specialises chiefly in any objects in the "turn-key" system, both as the investment general contractor as well as within consortia formed with the other subjects.
The many years of experience and the well-founded position of the company in the area of the housing industry have resulted of the shareholders of the Building Enterprise "CALBUD" in enlarging the scope of the activities by including the developer's market. For this purpose a company named CALBUD-DEVELOPER Gackowski, Osina, Węgrzyniak Spółka Jawna [general partnership] which appeared on the market as the investor of one of the biggest housing estates in Szczecin – Housing Estate Magnolia Park – awarded many times, modern housing – service complex comprising 294 apartments and 7 service outlets. Presently the developer's activities are conducted by both companies – "CALBUD" and CALBUD-DEVELOPER".
The twenty four years of practice and experience of the Building Enterprise "CALBUD", gained by the company both at home and on the foreign market, in connection with high-class specialists and professionals guarantee the top quality of the services provided by the company. "Firmness, reliability and lawfulness in the commitments and contracts" is the banner which constitutes for years the indicator of the company activities.
Information about the company
| | |
| --- | --- |
| Registration number (KRS): | 0000052767 |
| Registration Court: | Local Court Szczecin-Centrum in Szczecin, Dept. of Economics no. XIII |
| Taxpayer Identification Number (NIP): | PL 8510109272 |
| REGON: | 810511660 |
| Initial capital: | 340.000,00 PLN |
| Account number: | 24 1050 1559 1000 0022 7100 2814 |